Hey so I'm still recovering from the whirlwind event that is the Plein Air Convention. For those who don't know what the convention is(somehow escaped the aggressive marketing?), it's a convention where once a year 700 artists go to the Crown and Anchor bar in Monterey and drink a lot before they remember they have to wake up early to hear Eric Rhoads teach them how to sell their paintings. Hold on, I'm getting ahead of myself here. Before that happens, those 700 painters go to the convention center in Monterey where they watch demos of (almost)all of their favorite plein air painters, listen to lectures and presentations by artists, marketers, gallery owners, etc. and shop for supplies to fuel their inspirations to paint outdoors. It's put on by Eric Rhoads and the rest of the Plein Air Magazine team. For the low low sum of $995 you get a ticket to 5 days and nights of hardcore immersion in all things plein air.
I had been hearing for a couple of years about how awesome the event is from all my friends who had attended before. This was the 3rd year, and some had attended all 3 years, which is a pretty solid endorsement in of itself. Not being able to afford it in past years kept me from going to it before, but I bit the bullet this year and payed for a ticket. I had to make sure I could afford not only the ticket, but a hotel room in Monterey, and enough money to join in the festivities and debauchery. Please handle my wallet carefully, it's still sore... Anyhoo, I was very excited for it once I knew it was a reality, and I was looking forward to seeing old friends, making new ones, and checking out what they had in store for us.
Day 1
Bear with me because I didn't take a ton of photos of everything, so there will be gaps in some parts as far as the visuals go. I got there a little late on Monday the first day because the early schedule started off with sort of a "plein air basic" track to get some of the amateurs up to speed. I was definitely too advanced for it so I didn't watch it. I waited until 4PM for the real opening to begin.
The opening keynote was by Kevin Macpherson. That dude is FUNNY. He kept us all pretty well-entertained with his constant stream of self-deprecating jokes, slideshow of his paintings, and some inspirational quotes sprinkled in here and there. I had forgotten how good of a painter he is. Actually, I didn't forget, but I needed a reminder. It's hard to notice in this photo, but there is so much good painting in this piece that it really makes you stop and pause to look at everything going on it it. Great abstraction working to building a reasonably realistic painting. Quite inspiring, actually.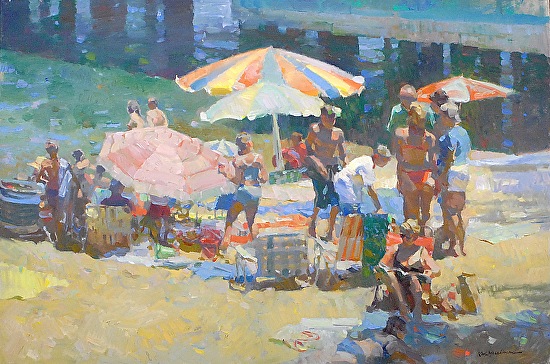 Kevin Macpherson, "Catalina Playground."
Next up was last year's $15,000 prize winner Shelby Keefe with a speed painting demo to her own music. There was a lot of speed painting going on in this event, which I can take or leave. Where I'm at, it has to be really really good for me to be impressed with a large painting done in 30 minutes. I'd much rather see a well-executed painting done patiently.
There was a Lifetime Achievement Award given in absentia to Richard Schmid. I don't blame him, if I was 70 years old, I probably wouldn't feel like flying across the country just to pick up a trophy. Still, it would have been nice to meet the man/myth/legend. There was a great slideshow of his work with some rarely-seen paintings that spanned his entire career. They actually uploaded part of the presentation to Youtube; check it out:
I wish I'd taken photos of the slideshow, there was some dynamite work. His early landscapes were so so good. As much as I like all of his work, his pre-1980 landscape work has so much thick texture and dazzling interplay of light and dark that I miss in his later more-quiet landscapes. Still, very inspiring. His Maine seascapes depict a quality of grays and fog that are reminiscent of what you find on the North Coast of California and the Pacific Northwest.
Next up were the award winners of the Plein Air Salon. Who would win the $15,000 award?? I appreciate you hoping it was me, but alas 'twas not I. A watercolorist named Stewart White took home the bacon.
" St Johns Church, Richmond" by Stewart White. Watercolor, 11x14.
Day 1 concluded with the cocktail/mingling party where we all reconnected and also put faces to familiar Facebook names. We cashed in our free drink tickets, ate the free food, then escaped to what passes for nightlife on a Monterey weekday. Hey I'm not complaining; I'm a homebody.
Day 2
Day 2 begins bright and early in the morning. 6:30 AM to be exact. Master marketer Eric Rhoads begins his 3 day presentation on how to better market our art. He starts the presentation by saying, "some of this information will offend you." What he was saying was essentially to put our artist's berets and copies of The Art Spirit down for a second and listen to what he has to say about selling art. One of the more unsettling nuggets he gave us included "Improving your craft won't necessarily improve your sales." Ugh, talk about a gut punch to everything you were told... I don't 100% agree with that actually, but I was still willing to hear him out. He went on to give us a lot of useful tips, and some of the exercises (like imagining your ideal customer and a few simple tricks to put us in that person's shoes) immediately worked to jog my imagination about coming up with strategies. Part 1 finishes and I'm digging it so far. We break for breakfast and wait for Joseph McGurl's demo.
A quick sketch of Shelby Keefe + some notes.
Joseph McGurl
Joseph did a demo where I did a quick-ish painting from a finished piece of his. It was pretty cool and fairly unique as far as the convention goes. Joseph is a painter in pursuit of the light, and is more influenced by the early painters of the Hudson River School much more so than by the California Impressionists/Sorolla that much of the rest of us consider influences. I was struck by his preference for ratty brushes and quick-drying whites to build up texture rather than laying brushstrokes on top of each other as most of the other instructors do. I took away plenty from this demo, and even picked up a new tool: a plastic putty knife that you can use for straight edges, making horizon lines, and measuring angles. Very useful for any painter who relies on straight lines for anything they do in a painting.
Randy Sexton and Larry Moore did a demo, which I kinda regret missing most of because I heard it was a good one. I was too jazzed up and ready to paint to sit through another 1.5 hour demo. Here is the only photo I have of it.
Instead I went and painted a really quick study of the rocks near the wharf a block away from the convention.
Monterey Fisherman's Wharf. 3x5 in
I caught the tail end of a Bryan Mark Taylor demo before settling in for John Burton.
John Burton
John Burton started an ambitious demo where he tried to paint a 30x40" canvas in 2 hours. Now, John Burton is a really good painter, local to Carmel who is really good at landscapes. It was pretty interesting to watch him do his thing up there, but I wonder if we would have gotten more out of watching him work a smaller painting further. Still, some take-aways were his use of Kings Blue (a light blue that is based on a mixture of ultramarine blue and white) and azure blue. They seem like good time-saver colors. A good quote of his was, "Plein air painting is an open book test. Studio painting is a closed book test." Meaning, if you are looking to study nature, go to the source instead of relying on a photo's interpretation of the scene. He did a good job and was sufficiently inspiring.
It was time to go out and paint! We went out to Asilomar to paint as a group. It was cool to see so many painters basically take over a spot on the beach and apply our new tricks to our paintings.
Asilomar Beach, 11x14, 2014.
I don't mind gray days like this, in fact, I like trying to find the color within the seeming grays.
Another fun thing to do during these paint-outs was to walk around and see what everyone else was doing. I caught a bit of Daniel Gerhartz painting en plein air...
...speaking of Dan Gerhartz, this is a good place to end today's installment. Coming up next is his demo from the model and much more...
•
For those who can't wait any longer to see more, I put together a slideshow of photos I took of some instructors doing demos. Looking back at it, I wish I took some more photos than just the essential demo stuff, but now I know for next time. Anyways, enjoy.
•
Newsletter
Facebook
Tumblr
Drawings For Sale
Prints For Sale
Google+